"The incident room in Three Pines was filled with the aroma of wet socks, sweat, cilantro, and lime. Olivier and Gabri moved aside the firefighting equipment and set out the ginger-garlic chicken soup, sandwiches, and drinks…"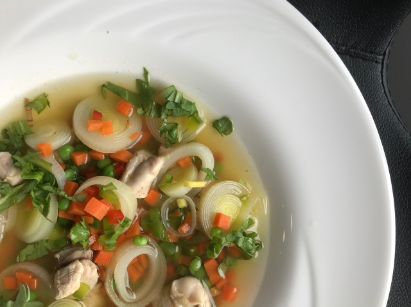 Ginger Garlic Chicken Soup
Serves 4
Prep Time: 15 minutes
Cooking time: 30 minutes
INGREDIENTS:
30 mL (2 tbsp.) olive oil
One medium leek, sliced
240 mL (1 cup) diced carrot
One red bell pepper, diced
One raw chicken breast, diced
1ml (1/4 tsp.) cumin
15ml (1 tbsp.) grated ginger
4 cloves garlic, chopped
1.5 l (6 cups) chicken broth
240ml (1 cup) fresh or frozen peas
50g (2 cups) chopped arugula
Salt and pepper
DIRECTIONS:
1) Heat oil in a saucepan, add leek, carrot, bell pepper and let cook over low heat for 5 minutes.
2) Add the chicken, cumin, ginger, garlic and cook for another 5 minutes.
3) Add the broth, salt and pepper. Bring to a boil and simmer for 15 minutes.
4) Add the peas.
5) Just before serving, pour the soup into the bowls and place the arugula on top.